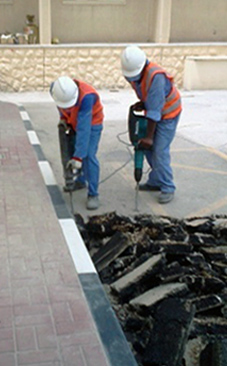 Surface Rain Water Disposal System :- Supply & Construction of Precast Soakaway Rings & Gully pots & reinforced cover slab of various sizes & construction of designed underground tanks.
Excavation Works :- Earth works for laying of Electrical cables,Sewerlines,Surface rainwater system,Mechanical services,Trenches,Foundational excavations etc.
Road Works :- We have undertaken several road building & construction projects throughout Qatar for the past dacade.Our expertise consists of following executions.


Detailed Topographical study of Developed Area.
Design & layout of proposed elevations & services with mockup where required.
Cutting,Grading,Watering & Compaction of Sub Grade.
Laying of asphatic course as per clients request & QCS(Qatar Construction Standards).
Road Markings & Directional Signages.
SIC of street lights & panel with necessary Foundational works.